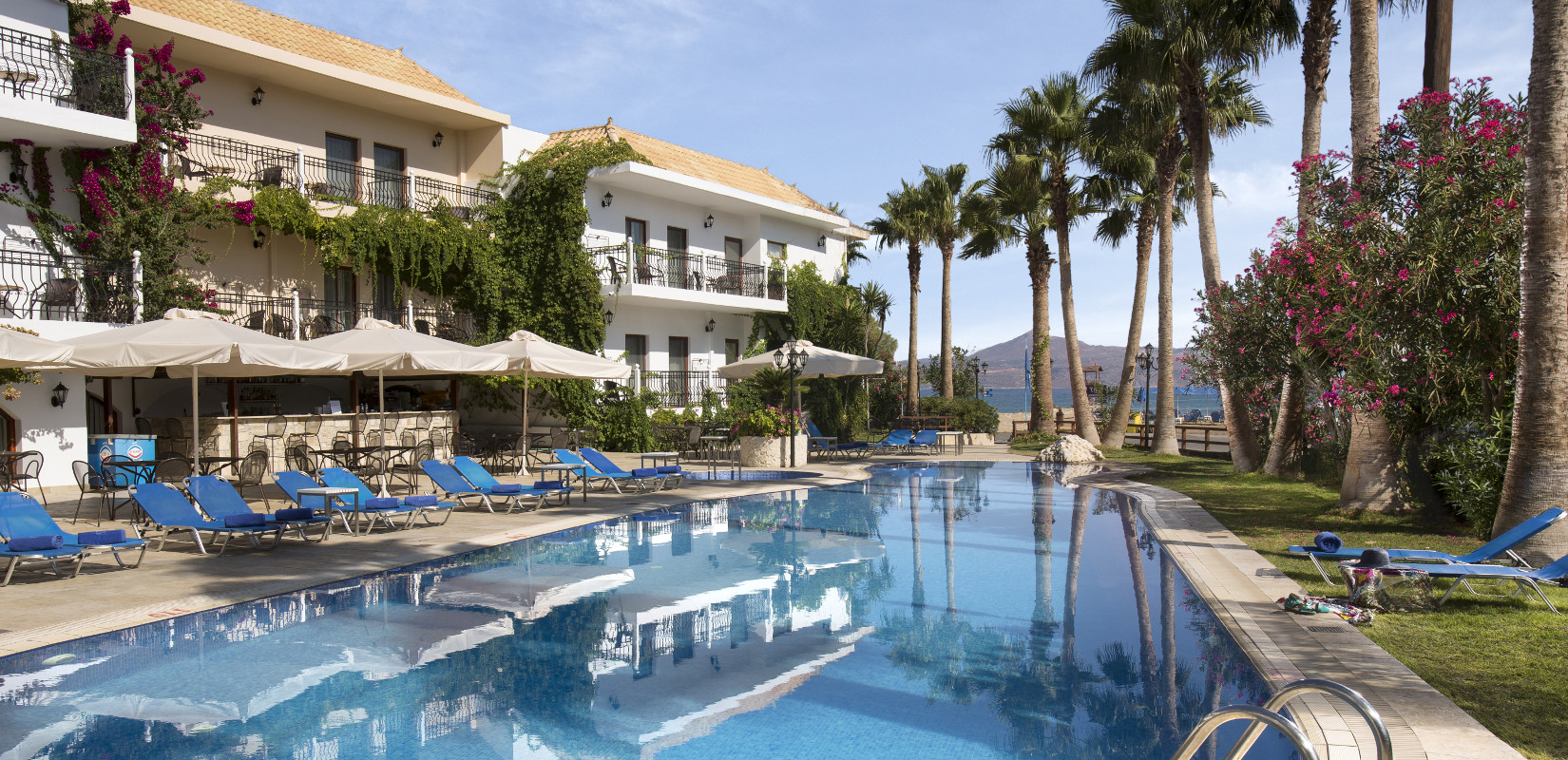 A RELAXING AND SAFE HOLIDAY
OUR ACTIONS FOR THE HEALTH AND SAFETY OF OUR GUESTS AND STAFF
Dear Guests,
We, in the Almyrida Resort, are happy to announce that we will restart our operation on May 15th for the summer season of 2021. Based on the Guidelines announced by the Greek Authorities we are implementing our health protocols to ensure a relaxing and safe holiday in Almyrida.It is necessary to communicate these measures to you:
The Almyrida Resort is certified by TUV Austria with an ISO 22000 certificate, ensuring all procedures in the preparation of food, from the first step of supplies, to the last step of serving a meal to you, are in compliance with regulations.
We have issued the Health First certificate to ensure all health protocols and recommendations against COVID are not only implemented but also monitored with random checks throughout the season

Before your arrival
We have implemented an express check in form on our website, allowing you to fill in all necessary information required upon check in, in order to minimize the duration of the check in.
During your stay
We have amended the check in and check out time, (check in after 15.00, check out by 11.00) to allow additional time for an even higher standard of disinfection and cleaning of the room than we already have.
We recommend contactless payments using credit / debit cards to minimize the use of cash.
We have Added protection glass at the reception and hand sanitizers throughout the hotels, restaurants, elevators, common areas
We advise guests to keep a distance of at least 1.5m during their stay in all public areas.
We recommend cleaning of the room, change of linen and towels upon request.
During your meals
We have extended the operational hours of the restaurants for the evening buffet
We increased the distance between tables.
Implemented a new system during breakfast and dinner buffet. Upon entrance to the Buffet area we have isntalled hand sanitizers, which is mandatory.
Coffee/Tea and fresh squeezed orange juice will be served upon seating at breakfast.

At the Pool
The sunbeds and umbrellas are placed according to the new regulations allowing for additional space.

Our Staff
All members of our staff have received extensive training for all measures in every department
Protective gear such as masks, gloves and sanitizers are provided.

All measures are implemented discretely and updated constantly, as our main goal is to offer you a relaxing and safe environment.
We are confident that our staff will provide you with an unforgettable, well deserved holiday!
Don't forget, that regardless of the worldwide situation, what we are known for in the Almyrida Resort is our friendliness. The cozy feeling of the hotel and the village, our fantastic staff, always smiling, an excellent meal, beautiful, warm weather that never fails. Crystal clear waters, breathtaking views and stunning sunsets. A good sleep. All the above can be wrapped up to what we call the Almyrida Resort Experience.
Thank you for choosing the Almyrida Resort for your stay!

Yours sincerely,

Manos Dimitrakakis
General Manager
Almyrida Apokornou, GR 73008 Chania, Crete / Greece
Crete
,
73008
(+30) 28250 32442
0030 28250 32075